Don't wanna read? Find the recording of the GDC Talk here, mine starts at the 10min mark (all the others are great too!). 
Are you sick of having the same small talk conversations all the time?
"Where are you from?" "What do you do" "What is your monetization strategy?"
Are you craving real, deep connections instead?
Yeah so are we!
That is why we designed "Blanket Space", an analogue, 3-player experience which aims to create intimate, respectful connections between total strangers.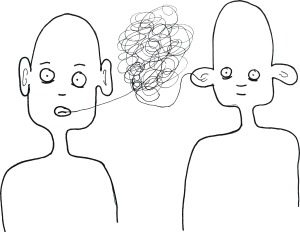 At the Lyst game jam 2017 in Copenhagen Martin Nerurkar, Ludwig Sandbacka, William Zack Wood and I created this experience.
You can find the description of the game and the rules here, but I would advise you to find a person that played it before to facilitate the session as it can get intense.
Be aware that while we did a bunch of research into the areas of group talk psychology, LARP best practices and BDSM in terms of consent, we are no experts on mental health and this is after all a Game Jam game.
If you are curious about emotional engagement in games, how to frame experiences to help players to disengage or how consent works I recommend the following resources:
Furthermore the following video is an amazing 2.5 minute summary of how consent works. Please watch it!

Take care of yourself and the people around you!